Milly Miller, Vice President of Escrow Operations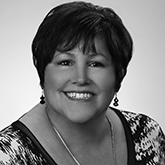 Bio:
Escrow Operations is managed by one of the industry's most experienced escrow professionals, Milly Miller. A 35-year real estate veteran, Milly's illustrious career began on the sales side as a Realtor, took a turn as a loan officer with one of the nation's largest lending institutions, and then landed in escrow where she found her true calling. Of her 25-years as an escrow officer, she is proud to have spent nearly half of it with Glen Oaks Escrow and American Trust Escrow, both companies of the Pango Group.
"This is a very forward-thinking organization and pertinent to our industry," Milly recently shared. "There's security working for a company like that. Even though it's large, it's very family-oriented with tons of support." As Vice President of Escrow Operations, Milly is actively involved in strategic initiatives, screening and hiring of escrow officers, training, compliance and just about anything related to escrow. With her expansive industry knowledge, fluency in Spanish, as well as hands-on experience with every type of escrow transaction including expertise in REO procedures and systems, Milly is an invaluable resource for the staff.
Outside of the office, Milly supports Compassion International, a non-profit organization that helps underprivileged children, two of whom she personally supports in the countries of Guatemala and Africa. She enjoys spending free time with her three children and her amazing grandson.